When you decide to devote your life to teaching elementary school students, the term high-energy becomes more of a requirement rather than a characteristic used to describe yourself. Luckily for Brad Evans, an elementary school teacher of 31 years, a high-energy lifestyle comes naturally to him.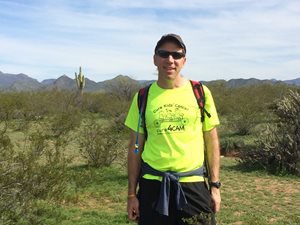 In addition to keeping up with a classroom full of young students, Brad enjoys spending his spare time staying active. "My family and I hiked more than 100 miles in 10 days this past summer at Glacier National Park," shared Brad. On top of this great feat, he also logged more than 1,500 miles on his bike in 2018 - all thanks to a successful shoulder replacement performed at OAA in 2017.

Before surgery, severe shoulder pain made it difficult to keep up with the active lifestyle he enjoyed so much. "I played college soccer and can remember taking a hit to my shoulder and having it bother me for a while," stated Brad. "I continued to play soccer after college and got into triathlons. During the running portion of the race, my shoulder would ache and make it incredibly difficult to compete."

In 2008, Brad had his labrum repaired, only to tear it again five years later, and then again for a third time. After the third tear, Brad's orthopaedic surgeon at the time refused to do another repair and told him that he was currently out of treatment options. Brad had reached his limit. He was tired of suffering from sleepless nights and not being able to enjoy the activities he loved most. He decided it was time to make a change in his orthopaedic care and reached out to Gregor Hawk, MD, orthopaedic surgeon at OAA Orthopaedic Specialists.

"I knew Dr. Hawk from coaching his son in soccer when our boys were younger," shared Brad. "I also knew he was well-respected and would understand how important it was for me to return to my active lifestyle."

Doctor Hawk is an expert in treating acute and chronic sports-related injuries and devotes half of his practice to correcting shoulder problems in his patients. It was crucial to Brad to have a doctor that regularly performed shoulder surgeries, and Dr. Hawk could not have been more fitting.


At the first appointment, Dr. Hawk reviewed Brad's history and they discussed how the loss of motion in his shoulder was limiting his daily activities. "After my initial consultation with Brad, I felt it was important to start with nonsurgical treatment options including injections and physical therapy," shared Dr. Hawk. "When the non-operative treatments failed, we discussed the option of a total shoulder replacement. I knew he would be a good candidate for this surgery because he is incredibly motivated and is an active participant when it comes to living a healthy lifestyle."

Brad too, knew that shoulder replacement surgery was his best option to help get him back to the activities he loved most. He scheduled his surgery date right before Thanksgiving of 2017.

When surgery day arrived, Brad felt confident in the surgical skills of Dr. Hawk. "Dr. Hawk and his staff were incredibly helpful with all aspects of surgery," said Brad. "He really took the time to explain the surgery and what I could expect during recovery. When I woke up in the recovery room, he was one of the first people I saw."

"The surgery took one hour," said Dr. Hawk. "His bone quality and tendons were in great condition. Brad stayed one night in the hospital and went home the next day."

Although Brad's surgery went incredibly well, he knew that recovery wasn't going to happen overnight. For the first couple of weeks Brad was in a sling, which he took off to get dressed and during physical therapy. He experienced days with varying pain levels, sometimes severe, but thanks to Dr. Hawk's honest communication about the recovery process, he knew what to expect. Participating in rehab was a key component in recovering, and oftentimes, it was very trying. Still, Brad remained motived to push through.

As Brad continued with therapy, he began to realize that he was finally sleeping through the night again – something he hadn't been able to enjoy for years because of shoulder pain. After three months of rehabilitating his shoulder, Brad was discharged from physical therapy and back to enjoying his fitness activities. Kayaking and fly fishing, two hobbies he loved but was unable to enjoy because of his shoulder pain, began feeling like normal activities again.

Shoulder replacement surgery had been a success for Brad, and he continues to feel more and more like himself every day. His latest goal for 2019 is to run a 5K – something he hasn't done in more than five years.

There are a few pieces of advice Brad wants those who are considering joint replacement therapy to consider. "Before my surgery I tried to get myself in good shape and was focused on how this operation would allow me to return to the things I loved doing," shared Brad. "I recommend to all of those who decide to go through with this surgery to have a goal and something to look forward to enjoying in the coming months. It helps to keep you positive and motivated throughout it all."

To schedule an appointment with Gregor Hawk, MD, or OAA's Sports Medicine Institute call 610-973-6200, or fill out a request an appointment form.