OAA Orthopaedic Specialists, the preferred choice of the Lehigh Valley for comprehensive orthopaedic care, announced that Dean L. Sorrento, DPM of OAA's Foot & Ankle Surgery, now offers Lapiplasty® 3D Bunion Correction™ , which is by Treace Medical Concepts, Inc., a foot and ankle company devoted to improving surgical efficiencies and patient outcomes.

According to Treace Medical Concepts, Inc., bunions are complex three-dimensional deformities caused by an unstable joint which allows your bone to lean, elevate and rotate out of alignment. Lapiplasty® 3D Bunion Correction™ is a major advancement as it addresses the root cause of the problem, which is the unstable joint.

Dr. Sorrento further explains that "The Lapiplasty® Procedure has allowed us to both control and correct the deformity in three different planes. Traditional bunion correction often involves a bone cut (osteotomy) to shift the bone so it is no longer prominent; essentially a one or two plane correction when in fact it is a three-dimensional deformity. In some cases, this leads to a recurrence because there is an unstable joint at the base of the bone causing deformity in three separate planes."

"With Lapiplasty® 3D Bunion Correction™, we can now correct this at the root of the problem (the unstable joint) in all three planes therefore reducing the chances of recurrence. In addition, the fixation allows earlier weight bearing than other methods therefore speeding up the healing process."   

The implementation of this new procedure has already been making a positive impact on the lifestyles of Dr. Sorrento's patients. Ginger O'Sullivan, who recently underwent the Lapiplasty® 3D Bunion Correction™ Procedure with Dr. Sorrento, stated:

"Throughout each step of this process, I received attentive care from Dr. Sorrento. I am thankful not only for his surgical skill but also for the instructions that he provided to me. This combination allowed me to move through my recovery period quickly and with ease. Being active without foot pain is something that I have not known for many years. Happy hiking to me and sincere gratitude to Dr. Sorrento."

As seen below in Ginger's case, with Lapiplasty® 3D Bunion Correction™, the entire metatarsal bone is simply rotated and shifted back into position, eliminating the unpleasant bump. The unstable foundation is permanently secured with patented, titanium technology. 
Dr. Sorrento is one of the few physicians in the Lehigh Valley offering Lapiplasty® 3D Bunion Correction™. He is in his tenth year here at OAA and continues to make advancements in his care and treatment for foot and ankle conditions.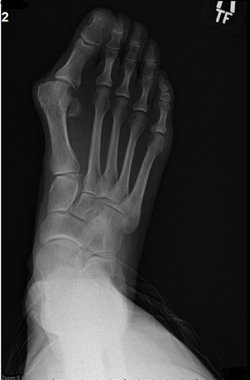 His extensive training also encompasses all aspects of foot and ankle reconstruction, including complex adult and pediatric foot and ankle-acquired and congenital deformities, diabetic limb salvage (Charcot  reconstruction), high arch and flatfoot deformities, trauma (ankle and foot fractures) and neuromuscular disorders.

To schedule an appointment with Dr. Sorrento, call 610-973-6200 or fill out our "Request an Appointment" form.

About OAA Orthopaedic Specialists
OAA Orthopaedic Specialists is an orthopaedic group in the Lehigh Valley that has been in practice for more than 48 years. The practice consists of 33 board-certified and fellowship-trained physicians and surgeons who provide orthopaedic care to individuals of all ages using a physician-led approach that is dedicated to convenience, cost effectiveness, quality, and passion, with the common goal of improving patient lives. Their team of medical providers diagnose and treat conditions related to the foot and ankle, hand and upper extremities, joint replacements, rheumatology, spine and neck, sports medicine, as well as work injuries. For more information about the practice, visit www.oaaortho.com.

###

If you would like more information about this topic, please call Sandra Gee at 610-973-6434 or email sgee@oaainstitute.com.