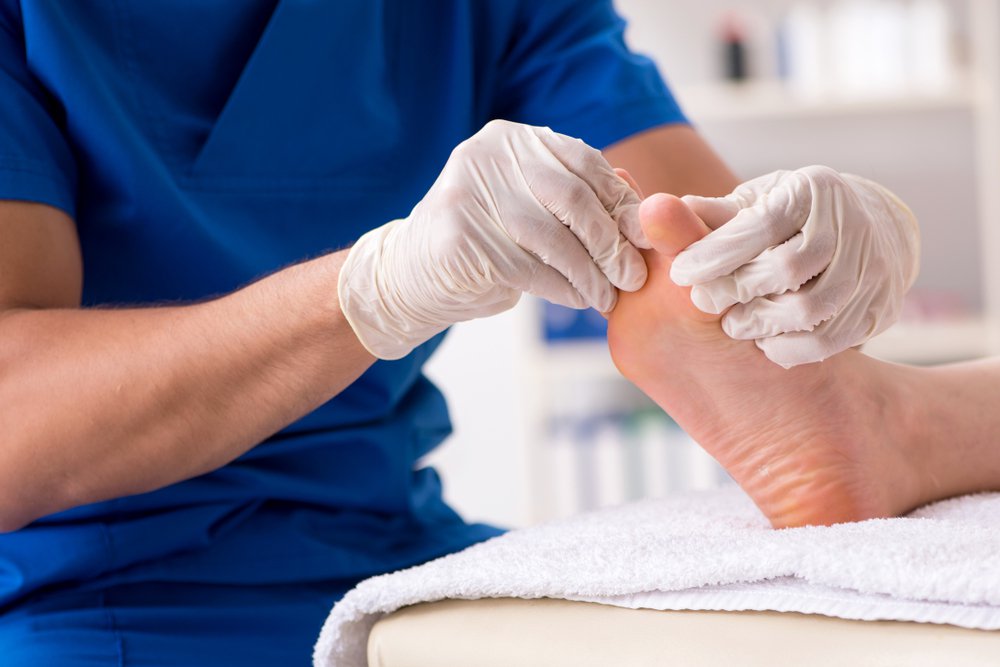 Our feet and ankles are vital to our ability to stand, walk, run, jump, and perform all the movements that allow us to get through our day. These hard-working body parts are so vital that we sometimes take them for granted -- until they're in pain. When foot and ankle conditions strike, we look to the experts at the podiatry clinic. But what is podiatry, and what are all the things a podiatrist can do?
At OAA Orthopedic Specialists, we're proud to have our own team of fellowship-trained, board-certified ankle and foot doctors to help patients get back on their feet. Here's a little more information about what podiatry entails, and what an experienced podiatrist can do for you:
Podiatrists Are Specially Trained
While podiatrists are most certainly medical doctors, physicians who specialize in podiatry actually have their own unique path toward receiving their credentials. Doctors who practice podiatry have the title DPM, which means "Doctor of Podiatric Medicine." Those looking to become podiatrists attend four years of a specialized podiatry school (there are nine accredited podiatry schools(opens in a new tab) in the US), studying each element of the feet and ankles and learning how bones, musculature and nerves work in tandem to make these areas operate. Once they graduate, podiatrists-in-training will take a residency, practicing what they've learned in an authentic hospital setting alongside experts in their own field as well as others.
A Podiatrist Can Diagnose Your Symptoms
One of the most important things a podiatrist learns during their training is how to identify a wide variety of conditions that affect the feet and ankles. Foot conditions can present themselves in wildly different ways -- a blunt pain could indicate one condition, while a burning pain could indicate another. You may not even feel any pain, but your skin and nails look dry and discolored. During an appointment with a highly-trained podiatrist, your doctor won't just look at your foot. They'll examine the way you stand, the way you walk and the way your joints move. They'll also investigate your medical history, as well as your family history of foot conditions. This way, they'll be able to provide you with the answers you're looking for in order to begin the treatment you need to find relief.
Podiatrists Can Treat Foot and Ankle Conditions
Once the podiatrist has accurately determined the root cause of your foot pain or discomfort, they also have the specialized expertise to provide you with the treatment you need. Some of the most common conditions our podiatrists treat at OAA include:
Plantar fasciitis
Hammertoe
Bacterial foot infections
Fungal foot infections (such as athlete's foot)
Hallux limitus
Corns
Heel spurs
Diabetic foot and wound care
Routine foot care
And more.
Podiatrists are well-trained in utilizing certain treatment tools unique to their field, such as custom orthotics, ingrown nail removal tools, scalpels, and liquid nitrogen for freezing warts. Your podiatrist will have an excellent grasp on how best to help you, but they'll also work with you to ensure that you're comfortable and confident with your treatment plan moving forward.
Podiatrists Can Perform Surgery
At OAA, we're passionate about providing our patients with the least invasive treatment options available. However, sometimes surgical intervention is necessary in order to make a full, effective, long-term recovery. If your condition requires surgery, you can put your trust in a podiatrist or foot and ankle orthopedic surgeon. Both of these types of physicians have the extensive training and experience necessary to perform your procedure safely.
Because our feet are so important to our daily lives, conditions of the feet and ankles can keep you in your seat and interrupt the activities you love and need most. If you're looking for answers regarding your feet, you can rest assured that a podiatrist has all the skills necessary to help you find relief.
Looking for a podiatrist near you? At OAA, we're proud to have a team of board-certified, fellowship trained podiatrists on staff, as well as a Foot and Ankle Surgery team who specialize in lower extremity procedures. If you're ready to start finding relief for your foot or ankle condition, schedule your appointment with OAA today or call (610) 973-6200 for more information.